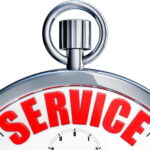 We are all about planning ahead. It helps to prevent a lot of trouble, whether that means planning ahead on car maintenance to prepare for a road trip or looking ahead on a schedule to plan work around several other tasks you have to take care of.
Getting things taken care of early is going to help you avoid stress and get the results you want more easily. Getting maintenance "ahead of time" is going to actually provide this result too.
If you aren't sure about getting maintenance done this early in the year, we'd like to give you some reasons why it is actually a great idea. Read on to learn more and then reach out to book an appointment.