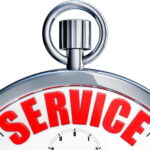 We are all about planning ahead. It helps to prevent a lot of trouble, whether that means planning ahead on car maintenance to prepare for a road trip or looking ahead on a schedule to plan work around several other tasks you have to take care of.
Getting things taken care of early is going to help you avoid stress and get the results you want more easily. Getting maintenance "ahead of time" is going to actually provide this result too.
If you aren't sure about getting maintenance done this early in the year, we'd like to give you some reasons why it is actually a great idea. Read on to learn more and then reach out to book an appointment.
Perks of Planning Ahead For Maintenance
Why book maintenance now? Because it will benefit you more than you might think. Let's look at the perks that can come with an early tune-up.
Your air conditioner is going to use less energy. When you run your air conditioner, you don't want it to cost too much. This is why you should get maintenance done now, so you can rest assured that your system will offer greater energy efficiency when you need it the most.
Your system is less likely to need repairs. Getting maintenance taken care of before you start using your system is also going to reduce the chances that it will need repairs. This is because a tune-up takes care of a variety of small issues in the system before they can escalate into a bigger repair need.
Scheduling maintenance will be easier. Still worried it's too early? That can work in your favor! Booking a tune-up now is going to help you avoid a line for service that will only get longer the warmer it gets. Knock out your service on your time now so you don't have to fight for a spot on the schedule later.
Your system will operate more reliably. Last but not least, a system that gets its yearly tune-up is going to be able to operate more reliably starting on the first day you need it.
Perks of an American Comfort Membership
It is clear that maintenance is absolutely worthwhile. But did you know that this service can be even easier and better than before? When you sign up for our American Comfort Membership you will get the same great quality of service along with benefits like:
Discounts on repairs
Expert tune-ups twice a year
Longer system lifespans
Inspections of your ducts and your AC system
When it comes to maintaining your air conditioner, it is always better to be prepared earlier than later. This way you avoid the stress of wondering whether or not your system will develop a bigger problem while waiting on that tune-up.
If you haven't already, reach out for your appointment for your AC maintenance or AC repair in Winder, GA. Our EPA and NATE-certified technicians are ready to help you stay cool at a reasonable cost.
Bringing Comfort to America, One Home at a Time. Contact American Comfort Heating and Cooling to get started.