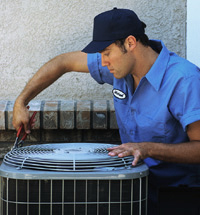 Okay maybe "never" isn't quite right. If your air conditioner is completely broken down and inoperable, then it is too late for maintenance, and for repairs too. However, if your AC is still working and simply hasn't gotten its yearly tune-up yet, you are in luck–
American Comfort Heating and Cooling can still provide the service you need.
Maintenance that is scheduled late in the season will always be a better option than skipping this service entirely. This is especially true if you want to avoid that breakdown from occurring early!