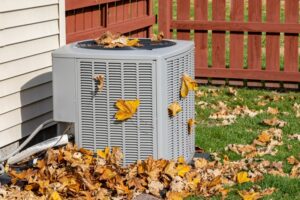 As summer winds down to a close and fall beckons with cooler temperatures and shorter days, you may be thinking that you'll soon be able to forget about your air conditioner. However, an unexpected bout of scorching weather after Labor Day is something we're certainly used to here in Georgia.
If you didn't schedule air conditioning maintenance this year, you may be surprised to hear us tell you that now is a great time to do so. Sure, before you start using your AC in the spring is the absolute ideal time, but fall is a good time to get it done. Here are some benefits of end-of-season AC maintenance.
Shoulder Season Means We're Less Busy
In the world of HVAC, shoulder season is the time of year when people aren't using their HVAC systems much. Summer is winding down but it's not cold enough to turn on your heating system. In fact, right now is the best time of year for tune-ups and installations because we're the least busy we'll be until spring.
When you schedule AC maintenance in the fall, it's our opportunity to make sure your HVAC system is ready for whatever the weather throws your way.
What Are the Benefits of Late Season Maintenance?
The top benefit of getting late-season AC maintenance done is that it will make your air conditioner more reliable. It reduces the chances of an unexpected repair during these last days of summer. Or even worse–not turning on at all when you go to use it next spring!
During an AC tune-up, we'll thoroughly inspect your system for any signs of disrepair. This allows us to find places where potential issues could lead to repair needs or a system breakdown if left unchecked. We check all the components, test them, and clean the system. With a well-maintained air conditioning system, you can reduce the likelihood of being without your AC when you need it most.
Increased Efficiency
Here's a fact that'll have you reaching for the phone to schedule a tune-up STAT: an air conditioner that receives routine tune-ups is capable of retaining 95% of its efficiency rating during its lifespan. That's because skipping maintenance greatly increases the amount of wear and tear on your system.
A system that's not maintained is a system that runs inefficiently. That means your AC has to work much harder than it should to do the same job and produce the same results. Your AC is forced to run longer and more often to reach the desired temperature. This is highly inefficient and will leave you having to replace your AC sooner than you should need to.
Increased Lifespan
You may be thinking that your AC will last 10-15 years no matter what. Well, that estimated lifespan only applies to systems that have received regular, annual tune-ups. In fact, system replacement at the 6-8 year mark is not uncommon in systems that never receive maintenance. Getting late-season maintenance is an investment in the longevity of your system.
Contact the team at American Comfort Heating and Cooling to schedule air conditioning maintenance in Winder, GA. Bringing Comfort to America, One Home at a Time.