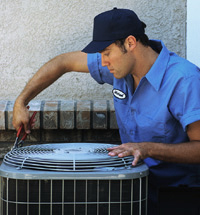 Okay maybe "never" isn't quite right. If your air conditioner is completely broken down and inoperable, then it is too late for maintenance, and for repairs too. However, if your AC is still working and simply hasn't gotten its yearly tune-up yet, you are in luck–
American Comfort Heating and Cooling can still provide the service you need.
Maintenance that is scheduled late in the season will always be a better option than skipping this service entirely. This is especially true if you want to avoid that breakdown from occurring early!
"Why Should I Still Schedule a Late AC Tune-up?"
Air conditioning maintenance in Winder, GA is always going to be beneficial to your home comfort and your system's operation, even if it is late. Here are some of the perks that even a late tune-up will provide:
Better energy efficiency: Yearly maintenance service helps your air conditioner maintain a better level of energy efficiency. Without this tune-up, your system is actually more likely to lose a certain percentage of its efficiency each year, which means less reliable comfort and higher bills for you.
Fewer repairs: While that tune-up may seem to only take care of small problems in your system, this actually goes a long way in preventing repairs. A loose screw could pop free and bounce around in your AC causing serious damage and expensive repairs if it isn't tightened during a maintenance check.
Longer lifespan: When a professional performs that yearly maintenance service for your air conditioner, they are helping to ensure it will enjoy a maximized lifespan too. By helping your system operate more efficiently and effectively, this service can actually help reduce the impact of regular wear and tear, allowing your system to last longer than it would otherwise.
"Why Is Maintenance Usually Done in Spring Then?"
You may be wondering why we are so adamant about scheduling maintenance in the springtime when you can get it taken care of later in the year. Let us ask you this first: When do you need your AC unit the most? During the summertime right? You aren't likely to want to turn off your system so it can receive maintenance during a summer day.
In springtime, you are less likely to require the use of your AC as much, meaning it is much easier to get the tune-up taken care of without having to deal with discomfort. Likewise, there is a lot less demand for professional services during the springtime making it easier to get your service scheduled when it is easiest for you.
Only Work With a Professional
When it comes to getting your air conditioner maintenance take care of, whether early or late, you need to schedule the job with a professional technician. Only a pro will have the knowledge and tools needed to get the job done right so that it helps rather than harms your system.
American Comfort Heating and Cooling offers expert maintenance services to Winder and the surrounding areas.
Contact us to schedule an appointment. Bringing Comfort to America, One Home at a Time.