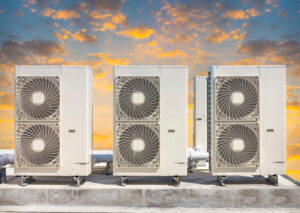 Although our winters here in Georgia aren't as cold as those of our neighbors up north, we still get cold temperatures that require reliable heating systems. For commercial spaces, ensuring that the heating is in good working order is essential. Nobody wants high utility bills, but you can't neglect the comfort of your employees and customers. Cold employees won't work productively, and customers will spend as little time as possible in a chilly place.
A great way to stay on top of the expense of commercial heating in Winder, GA is by making sure your commercial HVAC system is running as efficiently as possible. Here are some tips to help you get the best performance from your commercial heating systems.
Upgrade Your Systems
It may be time to evaluate the age and performance of your commercial HVAC systems. You might be thinking that if it's not broken, why fix it (or in this case, replace it)? However, if your heater is older, your commercial space isn't reaping the benefits that come from newer commercial heaters. Advancements in technology have contributed to the creation of highly efficient units that are designed to keep your energy costs low. 
Also, if your business has expanded, your current heater might be unable to meet the needs of your commercial space as it exists now. It's quite possibly overburdened and struggling to heat the space efficiently. A system replacement might be the ideal investment to ensure that your heater is meeting the demands of the space as well as your customers and employees.
Don't Skip Regular Maintenance
When it comes to older systems, maintenance is crucial if you want to maximize the mileage of a commercial heater. A good rule of thumb to keep in mind is maintenance should be scheduled twice a year. However, depending on the age and demands of the system, it may need more frequent checkups.
Routine maintenance will keep your system running efficiently. A maintenance check is also the perfect opportunity to identify any minor issues and fix them before they become major problems.
Change the Filter
Just like with a residential heater, the air filter in a commercial heater needs to be changed on a regular basis. However, depending on the type of commercial space, the frequency with which the filter should be changed varies. A restaurant or an auto shop is going to need to replace its filters more frequently than an office building.
A good rule of thumb to follow is to change the HVAC filter once a month. By replacing those dirty filters with clean ones, you can reduce wasted energy costs by 5-10%.
Upgrade the Thermostats
The benefits that smart thermostats provide to residential homes are the same for commercial businesses. And just like a residential smart thermostat, you should consult with an experienced professional to install one that'll work with your existing HVAC system. You should also leave its installation to the pros.
You need professional services for your HVAC system–especially when it comes to your commercial space. Our team takes our work seriously and we pride ourselves on exceeding our customers' expectations.
Contact American Comfort Heating and Cooling for commercial heating services. Bringing Comfort to America, One Home at a Time.