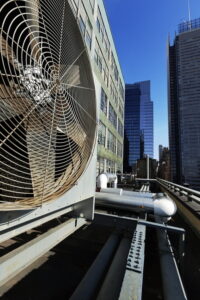 Keeping your business or commercial space at a reasonable temperature can be a tough job. Sure you could try to keep things livable with fans during the summer and space heaters in winter but we all know this proves highly ineffective in the long run. These smaller solutions aren't going to keep everyone evenly comfortable, not to mention the fact that they won't help with any kind of indoor air quality control.
Keeping your commercial space comfortable is a big job–and it is one that our team is ready and willing to take on. We provide a full range of services for your commercial HVAC in Gainesville, GA which applies to a full range of systems. Learn more about the commercial services we offer that you may want to schedule now.
The 3 Commercial Services We Provide
You need a team you can trust to handle your commercial systems. These are the services you can rely on us for, all year long.
System installation: You need a reliable heater or air conditioner for your commercial space. Don't try to install it yourself or leave the job up to someone inexperienced. System installation is no small task, especially when it comes to a commercial system. What's more, if this service is done wrong, it can cost you comfort and can end up saddling you with an early replacement. Get this job done right the first time around with a professional.
Commercial system repairs: Your commercial system isn't working right. You've noticed because you're finding higher energy bills but decreasing. Maybe you notice the indoor air quality is getting worse and things are getting hotter day by day. None of this is good but it is all something that a trained professional technician can handle. Our experts can identify the core problem and resolve it in short order so you can regain control of your indoor comfort again.
Commercial system replacement: No system will lat forever. The question is whether or not you have a reliable resource to help with a replacement when yours gives out. Our team is here to help when that day comes. We can help warn you when your system is on its last leg too. That way we can help you plan ahead for your replacement so you never have to go days or weeks without the comfort system that your commercial space needs.
You Can Come to Us For Your Commercial Comfort Needs
American Comfort Heating and Cooling is a family-owned and operated business. Because of this, you can rest assured that we understand the needs of homes and businesses throughout Winder and the surrounding areas. We know what it takes to keep a commercial space comfortable. We also understand what it takes to handle and properly services a wide range of systems, from central commercial systems to packaged ones and more.
When you need help keeping your commercial space comfortable throughout the year, contact American Comfort Heating and Cooling. Bringing Comfort to America, One Home at a Time.