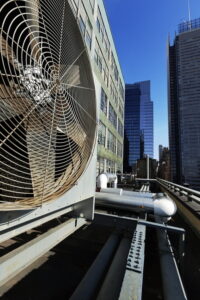 Installing a commercial air conditioner, heating system, or indoor air quality setup is a huge job. There are many individuals out there who are willing to install a commercial HVAC system in Winder, GA, but do they have experience doing jobs of this caliber?
If you're a business owner, one of the worst mistakes you can make is investing in the best equipment for your commercial space only to cut corners when it comes to its installation. Talk about a bad investment! You know how important it is to have the best HVAC services available to maintain smooth daily operations.
For businesses in Georgia, your commercial space will need to combat humidity, high temperatures, and poor air quality. We'll put the right systems in place to account for these variables without wasting energy or power in the process. Our technicians are NATE, EPA, and Energy Star certified and have the experience and expertise needed to provide you with the very best services for your particular business.
Read on to learn about what you should look for before hiring a company for your commercial HVAC installation.
Experience with Commercial Spaces
This is probably the most important requirement for commercial HVAC installers. For the complex needs of commercial and industrial spaces, your business requires a professional HVAC company with extensive experience–and the expertise gained by that experience–in commercial HVAC services.
The needs of a commercial space are vastly different from those of a residential space. In a house, the only ones whose comfort you need to worry about are your family. But with a commercial space, you'll have employees, tenants, visitors, and customers to think about.
When there are hiccups with your commercial system, there's the potential to face a significant business interruption. Hiring an experienced team for the installation and follow-up services means there are fewer chances that things will go awry. When it comes to maintenance and repairs, our service is quick and thorough to ensure that your commercial space suffers no downtime and is always running smoothly and efficiently.
Comprehensive HVAC Services
It's essential to work with an HVAC contractor who offers every service you'll need over the years, not just for the initial installation. Eventually, you'll need to schedule maintenance for that system, the occasional repair, and guidance when it's time to modify or replace the system.
If you choose a company that only does installations, then you'll have to start the process of finding a commercial HVAC specialist all over again. It'll save you time hiring a trusted contractor who can handle the initial installation in addition to repairs and maintenance.
24/7 Emergency Services
There's nothing worse than needing emergency service for your HVAC system, only to be unable to contact the person you hired for the installation. If you need repairs, we provide 24/7 emergency services. We understand that repair needs in commercial spaces are often urgent, and that urgent issues don't always take place during regular business hours.
Bringing Comfort to America, One Home at a Time. Contact American Comfort Heating and Cooling to discuss your commercial HVAC installation today.