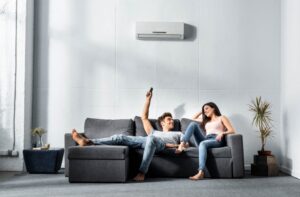 As we near the end of heating season, you should have a good idea of how your heater performed over the winter.
If it wasn't optimal and you suspect you're due for heating installation in Winder, GA, you may be wondering what your HVAC options are these days.
Homeowners have never had so many options for heating their homes. Today's HVAC systems are designed to be energy efficient and advancements in technology from just the last 5 years have made them even more so.
From dual fuel to ductless systems, heat pumps to smart thermostats, today's heating systems are designed with convenience in mind. Let's take a look at all the options you have for upgrading your heating system.
Heat Pumps
Although Georgia homeowners don't depend on heating nearly as much as they do air conditioning, a heat pump is an optimal choice for people looking for a two-in-one HVAC solution. Heat pumps provide the ability to both heat and cool a home with a single system.
If both your heating and air conditioning systems have been performing poorly, a heat pump could be the perfect solution to your year-round heating and cooling issues. They're especially suitable for climates that don't suffer from extreme and extended cold winter temperatures, just like ours here in Georgia.
Ductless Systems
You might be thinking that we made an error there, but we didn't. There really are options for heating your home that don't involve ductwork. These options are especially appealing to homeowners who know that their home's ductwork is highly problematic—and homes that don't have ductwork at all.
Ductless mini splits are a type of heat pump that are becoming increasingly popular. That's because they provide amazing zone control, allowing homeowners to pinpoint the exact temperature of just about every room in the house. They also eliminate the "middleman" or ductwork, making them highly energy efficient. 
Mini split systems consist of a single condenser unit that resides outside the home and up to 8 individual air handlers that are mounted on various walls of the house.
Just imagine the level of control this gives you. You can choose to heat or cool certain rooms at certain times of the day, resulting in amazing energy efficiency and decreased utility bills.
Furnaces
Furnaces continue to be a popular option for heating homes. The energy efficiency of furnaces has increased greatly with some models operating at a rate of 98% efficiency.
But because of our mild winters, Georgia homeowners can heat their homes quite comfortably and easily with mid-range efficiency models, making furnaces a cost-friendly solution.
Furnaces are also popular because they're tried-and-true systems that people know about and have come to depend on. Whether you want a gas or electric furnace, these systems are the most popular system across the country because they're reliable, efficient, and cost-effective.
Dual Fuel Systems
A dual fuel system is a combination of an electric heat pump and a gas furnace, giving you the best of both worlds. Dual fuel systems eliminate the problems of both systems working individually. A dual-fuel system is a great choice for our climate—when temperatures really drop, your gas furnace can take over.
Contact American Comfort Heating and Cooling for your next heating installation project. Bringing Comfort to America, One Home at a Time.