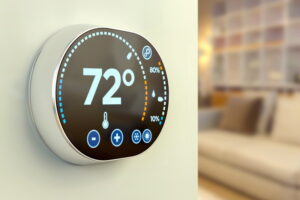 Does it feel like you spend more time battling to keep your home warm, rather than just enjoying a warm home? It is a frustrating situation and we get why you'd be upset. But before you reach out for help with a faulty heater, it may be worthwhile to check if you need help with a different part of your system.
Your heating trouble may stem from your thermostat. Similar to your heater itself, your thermostat can run into trouble over the course of its lifespan. This is why getting repairs or even a thermostat replacement can be just as important of a heating service in Duluth, GA as getting your actual furnace or heat pump fixed.
How to Tell You Need Help With Your Thermostat
Not sure whether or not your thermostat is the cause of your comfort trouble? Here are some of the warning signs that you should know:
The thermostat has a delayed response: When you go to turn on your heater, does it seem like you are waiting for longer and longer to get a response from the system? This may indicate your thermostat is having trouble receiving and sending your temperature directions.
The thermostat is miscalibrated: Another sign that your thermostat is in trouble is when it struggles to adjust the temperature appropriately. It may make the house too hot or it might not be telling the heater to make it warm enough. This can all be an indicator of a miscalibrated system.
There are frayed or disconnected wires: Wiring within your walls will wear out over the years and fray or even break. This is why you need to have a technician check your wiring if your thermostat is acting up. A wiring problem may be the culprit and a technician can be the person to fix it.
The display is unresponsive: Trying to get your thermostat to operate and discovering that the display isn't working is frustrating. It is also a reason to call for a professional repair. This may be a repairable issue or, if you have an aging thermostat, it may be a sign that it is time to upgrade.
Options for Upgrades
If your thermostat isn't fixable and instead needs replacement, then it is good to know what your options are. Wireless (wifi) or smart thermostats are a great option for almost any home in the area. These can allow you better control of your home comfort while reducing your energy usage. Make sure to talk to your technician about your options for your next thermostat today!
When it comes to getting your thermostat issues resolved, you need to work with a team of professionals to ensure the job is done right. Controlling your home's temperature requires a control system that works right. This is why you should come to our team for the service you need.
Whether you need help with your thermostat or your heating system, you can come to American Comfort Heating and Cooling. Contact us today! Bringing Comfort to America, One Home at a Time.