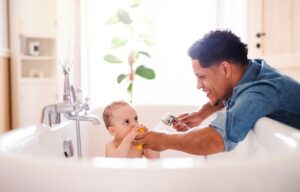 No one wants to encounter a blast of cold water when they are trying to enjoy a warm shower. If you've encountered something so unpleasant, you know it is easy in such an instance to determine that something is wrong with your water heater. But would you ever be able to fix a malfunctioning water heater before it loses its ability to do its job?
The answer is yes!
Our team provides water heater service in Lawrenceville, GA to address all types of issues that your system might encounter. Here are some early warning signs to watch for so you know when to contact us for help.
Warning #1. Your hot water is rust-colored
The next time you try to get hot water, see what the water flow looks like. Are you noticing red or orange hues in the water? If so this may mean there is rust somewhere in your system. This may be a sign of an anode rod that needs to be replaced or a connection that needs repairs. You will want to try to address this quickly–if a tank system develops rust in its tank, you'll need a replacement rather than a repair.
Warning #2. The system is making odd sounds
One of the most common indicators of a water heater in trouble is a system that has become noisy. If your water heater has begun to make noises like crackling, booming, popping, or a high-pitch whistle known as kettling, it is definitely time to talk to a professional about repairs. A majority of these noises are caused by sediment build-up in the system so a flush of the unit may be just what is needed to get things back to normal.
Warning #3. The water temperature fluctuates
Your water heater should be able to provide water that stays at a stable temperature. So if you notice that your system is producing warm, then cold, then lukewarm water, it may be time to talk to a technician. You may have sediment build-up making it hard for the heating elements to warm the water or they may be something else causing the problem. A technician can assess, diagnose and repair a faulty water heater so you can depend on your hot water supply again.
Whatever Your Water Heater Needs, Come To Us
You need a good water heater in your home to ensure you can continue through your daily life. Being unable to rely on your current water heater is a major issue. Thankfully it is a problem that our team can help resolve.
Our team has served the residents in and around Lawrenceville for years and have built a reputation for getting the job done right. We work with multiple types of water heaters including both storage tank and tankless systems. Our goal is to make sure that you have a system that works right whenever you need it.
Bringing Comfort to America, One Home at a Time. Contact the experts at American Comfort Heating and Cooling to get the water heater services you need.