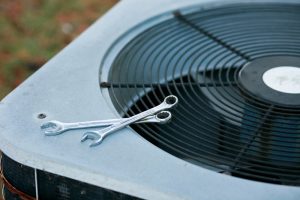 Spring is here, which means summer is fast approaching. Whether you have taken time to think about it or not, you should be turning your mind to mull over the condition of your AC unit. While there are still clouds and rain around Winder, we all know how quickly the weather and shift to warmth and humidity.
Now is the best time to have a professional out to your home to give your air conditioning system a good once over. This will allow them to look for any potential areas that need to be tuned up or even alert you to any incoming needs for AC repair in Winder, GA.
One such potential problem that you would want to be aware of ahead of time is a refrigerant leak.
Why a Leak is an Issue
Your air conditioner utilizes refrigerant to pull heat out of the air in your home to create cool air for your comfort. This means that when there is a refrigerant leak in your AC unit, the problem gets worse with time.
Initially, a refrigerant leak will create issues within your system due to the problem of creating enough pressure in your AC to cycle refrigerant. This means a reduced level of cooling and higher energy bills. From there, you will enjoy less and less cool air as the refrigerant continues to leak out until your AC is nothing more than an expensive fan.
In short, a refrigerant leak is a problem that should be solved sooner than later.
Changes in Refrigerant Choices
Now that it is 2020, refrigerant leaks are a little more complicated than they used to be. This is because there is now a big switch that has come through in regards to the refrigerant used in some cooling systems. We are of course referring to the phase-out of R-22, also known as Freon.
Because R-22 is known for being damaging to the environment, it is no longer being produced. Instead, air conditioners are to use R-410A refrigerant which is far more environmentally-friendly.
This means, however, that if you have an air conditioner that is still using R-22, a leak may need a different decision than just a recharge.
Repair or Replace?
So if you have an air conditioner with a refrigerant leak, your response should vary based on the type of refrigerant your system uses.
If you have a system that uses R-410A and it encounters a leak, reach out to your local professional technician for a recharge.
If you have an AC unit that still uses R-22 however, you have two choices. The first option is to schedule a recharge for your AC though this is going to get harder and more expensive as time goes on. Your second option is to replace your air conditioner unit with a new system that uses the new refrigerant. While this option is more expensive initially, it will pay for itself in terms of better environmental impact, fewer repairs, and improved energy efficiency.
If you aren't sure which option is your best one, you are encouraged to reach out to your local professional at American Comfort Heating and Cooling.
Bringing Comfort to America, One Home at a Time. Contact us today.