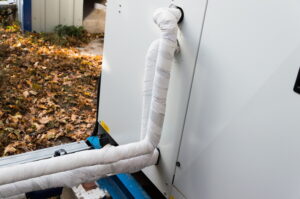 When your air conditioning stops working, especially during a week with scorching weather, it is a serious problem. While all air conditioning issues need to be tackled immediately, refrigerant leaks can be especially problematic. Wondering why? This is because your refrigerant is what allows your system to create cold air.

Remember, if you delay getting a refrigerant leak fixed, there are greater chances of damaging your air conditioning system. However, the first thing to do is identify whether you have a refrigerant leak or not. The next step is to schedule repair services. If you are located in Duluth, GA we can help with all types of AC repairs.
Warning signs of a refrigerant leak
If there is a refrigerant leak in your system, it's a given that the AC will not function efficiently. Here are signs that will tell you that there is a leak.
Your air conditioning is not cooling the room as effectively as it should.
The AC is short-cycling, which means that the system tends to shut down soon after it starts.
There is a spike in your electricity bills.
If there is a hissing sound coming from the AC.
You can see signs of a leak around your outside condenser unit.
Ignoring these signs and not getting them resolved can cause more trouble later and might put a dent in your wallet. If your AC is low on refrigerant, it can also cause irreversible compressor damage, which means that you might need a replacement of the entire system.
Risks of losing refrigerant
An air conditioning system contains specific amounts of refrigerant. Losing it would mean that the performance of the AC will suffer. However, there are bigger issues to worry about.
Frozen evaporator coil
Designed for a particular refrigerant pressure and charge, the air conditioning system is at risk if there is a change in those levels. The most common problem caused due to a refrigerant leak is a frozen evaporator coil. As there will be less refrigerant circulating through the evaporator coil, it won't soak up as much heat from the air, causing the moisture on the coil to freeze. As soon as you observe ice on the evaporator coil, make sure to contact professionals that offer AC repair services.

Overheating of the compressor
Another risk to consider is the overheating of the compressor. Being the heart of the air conditioning system, the compressor will start overheating when there is a low refrigerant level because it will have to work much harder to do its job. Ultimately, the compressor will stop working, and you will have no option but to replace the burnt-out compressor or replace the entire AC if the damage is bad enough.
Now that you have figured out that your air conditioning system has a refrigerant leak, don't waste time! Get a professional to fix the leak and recharge your refrigerant today.
Contact American Comfort Heating and Cooling for the best AC repair services in Duluth, GA. Bringing Comfort to America, One Home at a Time.