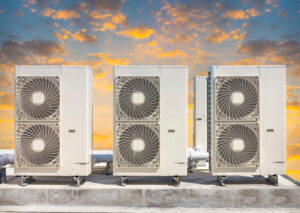 Commercial air conditioners are made to handle much larger amounts of work. This means that they can handle larger cooling loads. The benefits of this balance out with the fact that the services for a commercial cooling system will be a bit more expensive than a residential system, especially because servicing these systems involves the need for added training and certifications.
It makes sense that a commercial AC in Decatur, GA would need expert care. But this isn't the only upkeep that these systems require. Much like residential systems, a commercial air conditioner requires regular care to keep it running efficiently and effectively. Here are some of the best tips to help you enjoy the best performance from your facility's system.
What You Can Do To Help A Commercial System
Let's be clear, we are not advising that anyone should attempt to repair or service their commercial air conditioner. But there are some "best practices" that you can employ to keep your system running optimally. Here's what YOU can do:
Change that filter: You need to keep a clean and healthy filter in place to help your commercial HVAC system. A dirty filter can hinder air from entering your system, reducing the amount of cool air that is created and increasing the strain on your system. Make a habit of changing your system filter regularly, every one to three months on average. This way, you can ensure that the filter is keeping debris out of your system without hindering that airflow.
Try to keep thermostat settings reasonable: We know that this can be far more varied depending on who is reading this. A restaurant would need to keep things cooler in the summer to counteract the heat coming from the kitchen while an office space will need to find the best in between for the majority of people present. Try to find a temperature in the mid-70s that gets the job done to ensure efficiency and effectiveness.
Have an expert perform maintenance and repairs: Lastly, we'd advise making sure that you always and only work with trained professionals for your tune-ups and repairs. The technicians at American Comfort are trained to handle and service commercial air conditioners so you can reach out to our team for help with keeping your commercial space cool.
Why You Need a Technician Trained For Commercial HVAC Services
It is inadvisable to have an amateur service for your residential AC. It can be harmful and downright dangerous to let them attempt to work on a commercial system.
Commercial AC technicians are trained to handle the equipment that is within this kind of system. What's more, they are familiar with the requirement for handling the variety of commercial systems out there from rooftop units to packaged units. They can size this type of system properly and understand the codes required for servicing them without breaking the system warranty.
Need help with your commercial AC? Contact American Comfort Heating and Cooling today. Bringing Comfort to America, One Home at a Time.