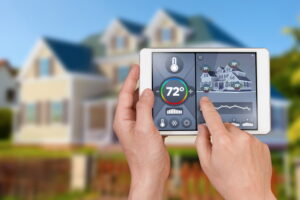 Wireless technology has certainly revolutionized our world. And one of the many ways it can make our day-to-day activities easier is with better control over our indoor comfort.
The use of a wi-fi thermostat in Norcross, GA can offer benefits to your home comfort along with your energy efficiency. If you have an older thermostat that just isn't working the way it should, it may mean that upgrading to a wireless system is a great idea.
Here's what you should know.
The Benefits of Opting to Upgrade to a Wireless Thermostat
Wireless (wifi) thermostats are great for a multitude of reasons. Here are some of the perks that you will want to know about if you are in the market for a new thermostat.
Better temperature control: More modern and technologically advanced thermostats offer much better temperature detection and, as a result, better control over your indoor temperature too. These systems are going to be more on the ball with figuring out right when things start to get uncomfortable and can help adjust the temperature quickly and effectively.
Program options: Have a temperature that you like to stick to during the summer to save money? Why not create a program? Wireless thermostats offer program creation that allows you to easily set things up to enjoy comfort and energy efficiency easily and automatically.
Remote accessibility: Let's say that you are on your way home from a long day out and you want to make sure that you have things cooled off as soon as you walk inside. Thanks to the ability to access your thermostat from a tablet or phone, you can easily adjust the temperature while on the way home and walk into a comfortable home.
How to Tell a Thermostat Upgrade Is Needed
Wondering if you actually need a new thermostat? Watch out for these warning signs that you need to schedule your thermostat upgrade today:
Lack of thermostat response: Trying to adjust the temperature on your thermostat shouldn't take an excessive amount of effort. If you notice that it requires extreme attention to where you set the dial or multiple button presses to get any kind of response, then you likely need a new thermostat.
The thermostat changes the temperature by itself: You set the thermostat to a nice temperature of 78° but when you go to check things again a while later, it reset itself to 72°! That's not normal. It is also problematic because it will cost you more energy than you want or need.
Incorrect temperature detection: Have you noticed that your thermostat can't seem to figure out what temperature it is inside of your home? A difference of anywhere from 2° to 3° can be costly and is a likely indicator that you need a thermostat replacement.
The thermostat is the brain of your comfort operation so make sure to keep tabs on how it is operating. Upgrading to a wireless thermostat can be a great way to enjoy better comfort at a more affordable cost.
When you need help with your thermostat or any other part of your HVAC system, contact American Comfort Heating and Cooling. Bringing Comfort to America, One Home at a Time.