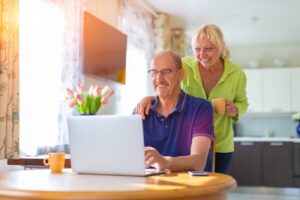 It's likely that a Google search on a topic you've been dreading has brought you here. Your current air conditioner is struggling or even worse–has broken down completely–and you're researching your options for air conditioning installation in Winder, GA.
Although no one relishes the day they need to replace their outdated air conditioner, there is one thing you can look forward to, and that's having a new, efficient air conditioner that'll easily keep your home cool and comfortable. You're also likely to enjoy lower utility bills after it's installed because today's AC systems are super efficient.
If you have your mind set on the same type of system you have right now, we encourage you to keep reading. It pays to do some research to learn what your options are for modern-day air conditioning. You may find that a different type of system might serve your needs better. Read on to learn about the many options for AC installation.
Central Air Conditioning
A central air conditioner continues to be a popular choice for Georgia homeowners. That's because a central AC is a tried and true method of combatting our hot, humid weather. They deliver whole-house comfort and when they're working at peak efficiency, they do so quickly and easily.
In just the last several years, central ACs have become impressively energy efficient. They're now rated by a system called SEER2. If you decide you want central AC installation, you'll have to decide between different efficiency ratings.
A higher rating will mean a higher upfront cost to purchase the system, but you'll reap the reward of lower utility bills throughout the cooling season.
Heat Pumps
Heat pumps are a two-in-one system that both heats and cools your home. If you know that your heater is also due to be replaced, a heat pump is an ideal choice because you're getting two systems for the price of one.
Heat pumps rely solely on electricity and refrigerant to operate. They don't use any fossil fuels which makes them a popular option for people who want to "go green."
Just like with central ACs, heat pumps are available with different levels of efficiency. The more energy-efficient the heat pump, the more it'll cost upfront. One last thing to consider: heat pumps are considered ideal for climates with mild winters such as ours in Georgia!
Ductless Mini Splits
These systems are a popular option in the ductless heat pump category. The ability to customize which rooms to cool down in your home has contributed to their popularity. They're ideal for households where one person runs hot and another runs cold. To solve this problem, rely on the amazing zone control that ductless mini splits provide.
You can choose which rooms of your home receive wall–or ceiling–mounted air handlers. That means you can choose to cool down just one room or all the rooms in your home. Ductless mini splits are a great way to reduce your utility costs since most people don't usually have all the air handlers operating at the same time.
Contact the team at American Comfort Heating and Cooling to discuss your options and to schedule AC replacement. Bringing Comfort to America, One Home at a Time.