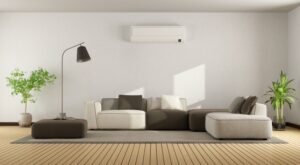 Modern technology has provided us with a large number of benefits. One of these benefits is the ability to keep your home cool without the requirement to have ductwork. This means that anyone with a home that is too small to accommodate ducts or was made long enough ago that it can't have ducts now has an option for their whole home comfort with a ductless system.
Ductless systems in Buford, GA offer great comfort benefits for anyone who chooses to add them to their home. If you're wondering whether or not this is the right system for you, we can give you more information to help you figure out the answer.
4 Reasons a Ductless System May Be What You Need
If you've been going back and forth about whether you are going to benefit from installing a ductless HVAC system you may want to consider the following factors.
1. You need efficient home comfort
Ductless HVAC systems are made to be highly efficient in their operation. They also offer a lot of added ways to save energy through reduced use. For example, if you are the only one home, you can save energy by running one air handler on its own, keeping yourself comfortable while keeping your energy usage to a minimum. What's more, because they don't use ducts, they don't run the risk of losing any conditioned air through possible duct leaks.
2. You need both heating and cooling
Ductless HVAC systems are able to operate using heat pump technology. This means that you can rely on these systems year-round due to the fact that they can reverse their refrigerant flow. If you need both an air conditioner and a heater in your house, then a ductless system can be the ideal match for your home comfort needs.
3. You are looking to improve your indoor air quality
Due to the fact that you don't need ductwork, you can also enjoy improved indoor air quality with the use of a ductless system. This is because you won't have any encounters with dirty ductwork since, again, there are no ducts to collect any debris! Plus, each air handlers has its own filter, providing better air filtration throughout the house.
4. You don't have (or want) ductwork
Last but not least, you may want to opt for a ductless system if you aren't able to accommodate ductwork or don't want ducts. Some examples of this include small studio homes that have too few square feet to get ducts installed. This can also apply to older homes that weren't made to include ductwork.
When it comes to getting a new home comfort system in your house, it isn't a decision to rush into. That's why it works not only to learn more about the systems available to you but also to work with a professional who can make sure that you get the one that best meets your needs.
Bringing Comfort to America, One Home at a Time. Contact American Comfort Heating and Cooling to schedule a ductless HVAC system installation.