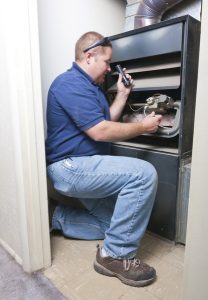 Maintenance is a service that we provided because it helps save our customers time, money, and stress. Who wouldn't want to take advantage of something that helps you avoid more problems down the road?
If you haven't scheduled your heating maintenance in Winder, GA we would suggest doing so soon. This can help you also avoid having to wait a longer period of time to get the service you need. Plus it is going to benefit your heater and your peace of mind in the long run.
Let's talk about why heater maintenance is well worth adding to your schedule this fall.
What Maintenance Does For Your Heater
We recommend that you schedule maintenance each year so that you can enjoy the full impact of the following benefits;
Better energy efficiency: Better energy efficiency only comes with regular maintenance. This service can help prevent a loss of 5% of your system's efficiency each year, preserving up to 95% of the original efficiency level over the course of the heater's lifespan. A more efficient heater is going to be one that keeps your energy bills more manageable as well.
Improved effectiveness: A well-maintained heater is going to be far more effective at heating your home. Maintenance is going to address a variety of problems in your heart that could otherwise undermine the heating process. That means that this yearly tune-up will ensure that you can enjoy a warm home without worry.
Reduce repairs needs: No one wants to have to go for hours without their heater on a cold day while it is repaired. Thankfully you can prevent this with regular maintenance. In fact, you can prevent up to 85% of the repairs that might pop up otherwise.
Maintained warranty: Any professionally installed heater is likely to be backed by a warranty that makes it more affordable to keep in working condition. A voided warranty can't offer any protection. That's why maintenance is so important–it keeps the warranty valid!
Safer operation: Last but certainly not least, regular annual maintenance helps keep your heater running in a safe manner. This is because it prevents those repairs that could become safety hazards otherwise.
Why the Fall Is the Season For Your Tune-Up
We understand that life is busy sometimes and it is likely going to be hard to include a tune-up into your already-packed schedule. Thankfully delayed maintenance doesn't translate to an immediate breakdown. However, it might make it harder to get an appointment for a day and time that suits your schedule.
Book today so you can get this service taken care of during a time that works best for you. Plus, you can get the job done before things get too chilly!
Our technicians are NATE, EPA, and EnergyStar-certified so they are going to be able to provide the service that you need.
Bringing Comfort to America, One Home at a Time. Schedule your heater tune-up with the team at American Comfort Heating and Cooling today.