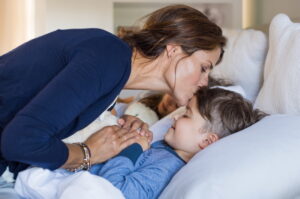 A good night's sleep makes all the difference to your physical and mental well-being. Anyone who hasn't slept well knows how it affects you the next day. From memory loss to mood swings, not getting enough sleep has many detrimental effects not just in the short-term, but in the long-term as well.
More and more studies have shown how much of an effect a home's indoor air quality (IAQ) has on the quality of sleep for its inhabitants. For example, people who live in areas with moderate to high air pollution are 60% more likely to suffer from poor sleep compared to those living in areas with cleaner air.
But even common indoor pollutants such as dust, mold, pollen, pet dander, and allergens are found in just about any home, circulating in the air you breathe inside and affecting sleep quality. If you want to improve your sleep quality, consider indoor air quality services such as the installation of a whole house air purifier.
What's in my home's air that contributes to poor sleep?
Common pollutants that contribute to poor IAQ include:
Allergens
Mold spores
Pests such as mice and cockroaches and their feces
Smoke
Dust and dust mites
Pet and human dander
Volatile organic chemicals (VOCs)
VOCs are gases emitted from chemicals found in many household products such as cleaning supplies and even air fresheners. It doesn't matter how often you clean your home–these pollutants are found in most homes. That's because homes are designed to be airtight. Without proper ventilation, the air inside your home can be 4-5 times worse than outside air.
All this Indoor air pollution affects your ability to breathe. And a decreased ability to breathe well affects the quality of your sleep. Poor air quality has even been linked to sleep apnea, a serious and potentially debilitating sleep condition.
Why is indoor air quality worse at night?
Indoor air quality tends to be worse at night. That's when people come home from work and school, cook meals, use appliances, run their HVAC systems, and spend multiple hours together in an enclosed space. Also, many people sleep with their bedroom doors shut, resulting in limited ventilation during the night and the increased buildup of indoor pollutants.
How does a whole house air purification system help?
Unlike portable air filters that only clean a portion of a room at a time, whole house systems are installed directly into the HVAC system, using existing ductwork to distribute clean, healthy air.
Depending on what type of system you choose, they can target multiple types of contaminants such as allergens, VOCs, bacteria, viruses, dust mites, mold, dander, plant spores, and more.
To help you sleep better, the air and surfaces of bedrooms are cleaned in the hours leading up to bedtime. The air purification system eliminates the number of indoor air pollutants in bedrooms, removing all the particulate matter that can cause sleep disruptions or decrease sleep quality.
Contact the team at American Comfort Heating and Cooling to indoor air quality services in Winder, GA. Bringing Comfort to America, One Home at a Time.