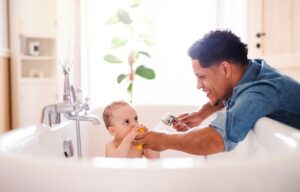 We all can agree that sometimes there is no better feeling in the world than being able to take a nice, warm shower. You depend on your water heater to be able to provide this for you when you really want that warm water. This means that choosing a good system for your water heating needs is pretty important.
Whatever your situation, if you are on the hunt for a new water heater in Atlanta, GA, you will want to know everything there is to know about your system options. If you have an older system that is ready to retire chances are that it is a tank heater. With that in mind, we'd like to tell you a bit more about another option you have: the tankless water heater.
3 Great Facts About Tankless Water Heaters
Have you heard of tankless water heaters? If you haven't the idea behind these systems might sound a little strange. For example, you may be wondering how they work without a tank. We are happy to answer all your questions about tankless systems when you reach out to discuss your best option for a new water heater. For now, we'd love to tell you three of our favorite things that we love about these systems.
They use a lot less energy and fuel. Tankless heaters are a great choice for someone looking to reduce their use of electricity and natural gas. These systems are able to use a lot less energy overall, up to 22% less than a tank system.
They don't create any standby heat loss. Standby heat loss refers to one of the biggest disadvantages that tank water heaters present. Because tank units have to keep gallons of water warm and ready at all times, it means they are almost always burning energy to keep the water at the right temperature. Tankless water heaters are able to avoid this. Why? Because tankless systems don't store water at all–they only heat it up when it is requested. This is what gives them the title of "on-demand" water heaters.
They save space and water. Tankless water heaters are great for anyone looking to save as much as possible. And this doesn't just refer to saving cash. Tankless systems don't require a multi-gallon storage tank which means they use a LOT less space. Additionally, because they only heat up water when it is requested, it also means that they use less water in the long-run.
There is a lot to love about tankless water heaters, especially if they turn out to be the ideal fit for your home's needs. How do you know that a tankless heater is a good fit for you? The easiest way to figure this out is to reach out to one of our professionals and discuss your options. A professional knows how to assess the space you have, your hot water needs, and more to help determine what system is the best match.
Contact the team at American Comfort Heating and Cooling to get started. Bringing Comfort to America, One Home at a Time.